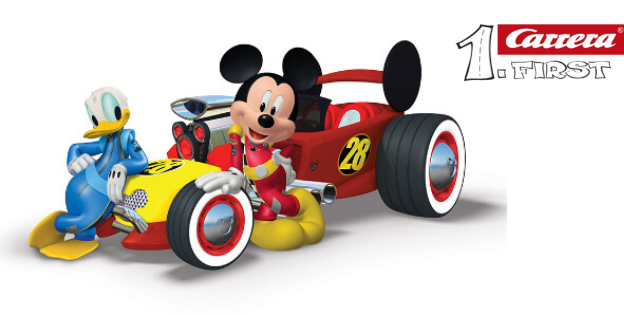 Mickey and the Roadster Racers now also at Carrera First!
The series Mickey and the Roadster Racers was first broadcast by Disney in 2017. In this series, Mickey and his friends experience different adventures when they race on their circuit in Jippiedal or on circuits all over the world. It was actually inevitable that Disney and Carrera would also bring the well-known heroes to the world of Carrera Racing.
In March 2023, Carrera will therefore launch the newest race track for Carrera First, Mickey's Fun Race. This complete set contains a race track with a length of 2.4 meters and is equipped with cool elements that make the experience even more real for the child. The set comes with Mickey in his Hot Doggin Hot Rod car and Donald in his Cabin Cruiser.
Later this year, Carrera will release the cars separately in addition to the complete set. And not only the cars of Mickey and Donald, but also Minnie Mouse in her Pink Thunder will be available.
The complete set will be offered for €35.99 and the individual cars will be offered for €14.39.
Carrera First Mickey's Fun Race - Race track set